You are invited To The Top in 2018!
Rally the support of your family and friends to help you raise money for HopeStreet (BAPTISTCARE NSW & ACT) as you journey To The Top.
To The Top
Ride To The Top started in 1995. Over the years, dedicated riders have raised more than $300,000 for HopeStreet. In 2017, Ride To The Top expanded to include Drive To The Top and Hike To The Top. Our inaugural To The Top event with three sponsors and forty-nine active fundraisers raised over $50,000 for HopeStreet.
HopeStreet, one of the longest serving not-for-profit charities in Woolloomooloo, offers hope to people living with disadvantage and distress.
You're personally invited to join HopeStreet in our quest to alleviate poverty, homelessness and marginalisation in Sydney by conquering the highest mountain in Australia (riding, driving or hiking) to raise vital funds and awareness.
What we will gain from your fundraising efforts is invaluable, and for that we cannot thank you enough! With your help we hope to raise a combined fundraising target of $100,000 to support the work of our Community Development, Women's Services, HopeStreet Gambling Help and Urban Education and Engagement programs.
We look forward to seeing you at To The Top 2018 in the Snowy Mountain's beautiful Kosciuszko National Park! Rise to the challenge and register before Tuesday 31 October 2017 to receive a free jersey (riders), T-shirt (drivers) or jumper (hikers). Event registration will close on Wednesday 31 January 2018.
Raised so Far
$0.00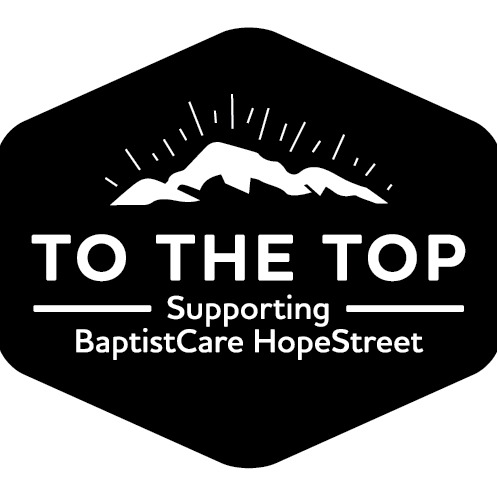 $0.00
2018 Dates
Ride To The Top
6 Day Challenge (7 Nights Accommodation) - Sunday 25 February to Sunday 4 March
3 Day Challenge (3 Nights Accommodation) - Thursday 1 March to Sunday 4 March
Drive To The Top
3 Day Challenge (3 Nights Accommodation) - Thursday 1 March to Sunday 4 March
Hike To The Top
3 Day Challenge (2 Nights Accommodation) - Friday 2 March to Sunday 4 March
The Challenge
Fundraise $1,000 or more for HopeStreet and choose to tackle one of the following challenges:
Ride 500+ kilometres across 6 days

Ride 250+ kilometres across 3 days

Drive 600+ kilometres across 3 days

Hike 30+ kilometres across 3 days